Classic components for reliable linear motion
Linear roundrails are long established as machine elements for the execution of linear motions and have optimally withstood the test of time in industrial applications. They can be used for example as adjusting units in automation tasks.
Linear roundrails are robust, reliable, powerful and – due to their simple construction – very economical. The construction of the roundrails, which is based on hardened guide carriages in combination with different linear-motion bearings or linear-motion bushes, allows many possibilities for variation. Rodriguez also offers sliding bearing variants.
In addition to the type of bearing, there is also a broad spectrum of guide elements to choose from. Mounting the guide shaft on different shaft supports and the use of open guide elements create additional possibilities for variations. Linear roundrails with shaft support provide an economical and robust alternative to profiled rail guides.
Advantages of Rodriguez linear roundrails
Precision shafts made of different materials
Linear ball bushings for all performance levels
Linear slide bushings (ceramic/self lubricating)
Linear housings and components
Shaft support blocks and shaft support rails
Customer specific applications
---
Product catalog Linear roundrails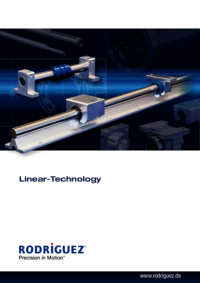 Product catalog
---
CAD downdload Linear roundrails
---